Many retirees are choosing to settle in Arizona for the state's beautiful weather, low cost of living and strong economy. If you are currently searching for "why retire in arizona" or "retiring in arizona", this article will help!
Reasons To Retire In Arizona
When most people think of living in Arizona, they may only talk about the weather. Is it worth living there, especially when dealing with the summer heat? The answer to that is a resounding yes! Check out a few of the many benefits associated with retiring in Arizona:
Most Sun In The Country
This isn't just what it feels like; this is a fact! According to the NOAA (United States National Oceanic & Atmospheric Administration), Arizona receives more sunshine than any other state in the U.S. Arizonans experience more sunny days than even residents of Florida. It's true, the sunshine state doesn't see as much sunlight as Arizona.
The Food
Many agree that you will find the best Mexican food in America right here in Arizona. While this is pretty much a consensus, it is certainly not the only food option that the state is known for. The entire state features all types of cuisine.
Golfing Destination
The state of Arizona is truly a golfer's paradise. Residents will be able to enjoy the perfect retirement hobby almost daily in the valley of the sun. Premier golf courses are scattered all throughout the state, ideal for golfers of all skill levels. If you are more of a golf fan than player, you will be happy to know the PGA's Waste Management Phoenix Open takes place in Scottsdale each year.
Low Cost Of Living
The low cost of living is undoubtedly one of the biggest reasons why so many retirees are flocking to the area. Generally, Arizona is more affordable than other destinations like California and Florida. The overall cost of retirement living is very affordable thanks to low transportation costs, reasonable food prices and moderate cost of housing.
Scenery
Arizona is home to some of the most breathtaking sunrises and sunsets one can see. Sedona is where you'll find the world famous red rocks, with gorgeous mountain ranges. Not many states in the country can offer mountains and lakes in one place.
Fewer Tax Burdens
Yes, we already mentioned the low cost of living, but we've decided to toss in an extra perk. Arizona offers less tax burdens than most states. Enjoy saving as much of your income as possible in the valley!
Sports
Sports lovers will enjoy the variety of action Arizona has to offer. Four major sports teams reside here, including the Coyotes, Cardinals, Diamondbacks and Suns. Many MLB teams head to Arizona for spring training, as well.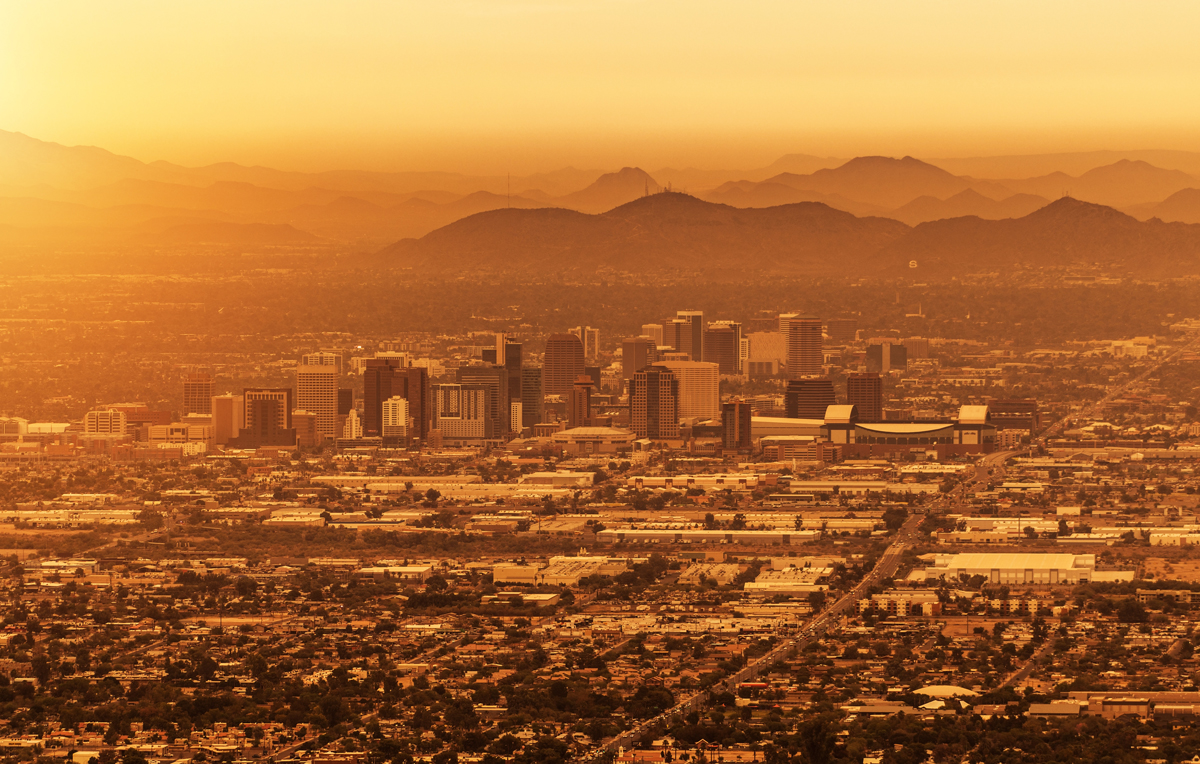 Best Places To Retire In Arizona
The following four cities offer great lifestyles for active retirees.
Surprise, Arizona
There are no surprises why this appropriately named city has become such a destination. Surprise is one of the safest cities in Arizona, with a crime rate that's 47% lower than the rest of the state. Surprise continues to grow each year as the population has recently surpassed 135,000. Compared to neighboring cities like Scottsdale and Paradise Valley, Surprise is much more affordable for retirees. If you love sports, you can catch baseball's spring training and hit the links all in the same day when living in Surprise.
Peoria, Arizona
Located northeast of Phoenix and Glendale, Peoria is home to some of the best retirement communities in the valley. Scenic views can be found at nearly every angle, complete with the Salt River flowing right through the city. Just like Surprise, Peoria's crime rate is well below the national average. In addition, with an average high of 94 degrees in July, the climate is ideal compared to other cities across the state. Peoria was recently named one of the top 100 places to live by Money Magazine.
Youngtown, Arizona
Youngtown has a fascinating history that has made it very popular with retirees. This city is actually the oldest retirement community in the country, dating back to the 1950s when developers created the very first retirement community. Measuring just over one mile, Youngtown is filled with people of all ages nowadays, but still home to top-notch retirement communities. Average temperatures will get no higher than 86 degrees from November to April.
Sedona, Arizona
Take one look and you will realize why so many people choose to retire in Sedona. With more than six million acres of red-rock beauty, Sedona is one of the most scenic cities in the U.S. Located just two hours outside of Phoenix, residents will love the fact that Sedona has a cooler climate year round. Retirees can fill their days with hiking trails, golf, horseback rides and famous jeep tours.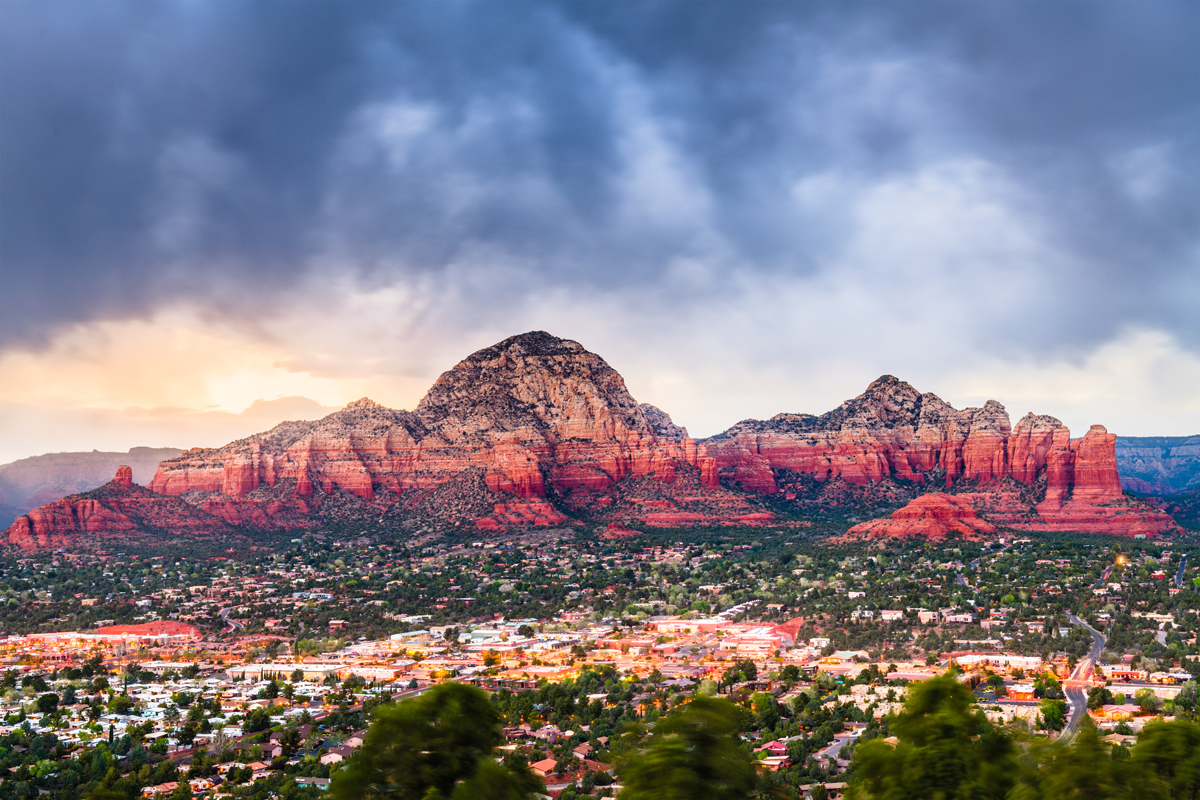 Vista Winds Is An Upscale Retirement Community Located In Peoria, Arizona
If you are doing research about retirement communities in Peoria, Arizona, Vista Winds Retirement Home should definitely be on your list. Vista Winds offers retirement living at its finest. We have a rich calendar of activities, meals prepared by a Chef and caregivers on staff 24 hours a day for your health and safety. We offer award winning independent living, assisted living and memory care services. Come tour our community to see how we are a step above the rest and how easy it is to Make Yourself at Home! Vista Winds is surrounded by amazing views and our resort style property will be sure to impress!
More Articles About Retirement